You can count on the Hardenbergia vine's profuse blooms to welcome spring. This vine will be covered with delicate lilac clustered flowers by late January.
The Hardenbergia vine is part of the Fabaceae family. It's botanical name is Hardenbergia violacea . You may also hear it called several other common names including: lilac vine, happy wanderer, and purple coral pea vine.
Everything You Need to Know to Grow Hardenbergia Vine in Phoenix
Before planting a Hardenbergia vine you'll want to know if it prefers sun or shade and it's growth pattern. So if you want to cover a block wall, trellis, or arbor the Hardenbergia vine is a great choice. Before you start digging:
Planting Hardenbergia Vine in Phoenix Arizona
How does a Hardenbergia Vine Climb?
This self-climbing vine has tendrils that reach out like tiny fingers grasping for something nearby to latch onto. It can grow 10 feet in any direction that it can find something to attach it's tendrils to.
This vine wants to twine around something, so giving it a trellis is a good idea, otherwise it will spread out and twine itself around anything and everything close by.
How Fast does Hardenbergia Grow?
Lilac vine grows fairly quickly, the ones in our garden grew about 2 feet in a year.
Is Hardenbergia Lilac vine drought tolerant & how much water does it need?
Yes, as an Australian native the Hardenbergia is drought tolerant and does well in the low desert of Phoenix. Once established the vine is a low-water usage plant.
Is the Vine Evergreen?
Yes, the vine stays green year round and can reach heights of 10-15 feet and width of 8-10 feet.
When does the Vine Bloom and are the Flowers Fragrant?
This vine will be covered with tiny lilac clustered flowers by late January. The sweetly scented flowers last a short time. You can expect to see the blooms about 6 weeks from late January through early March.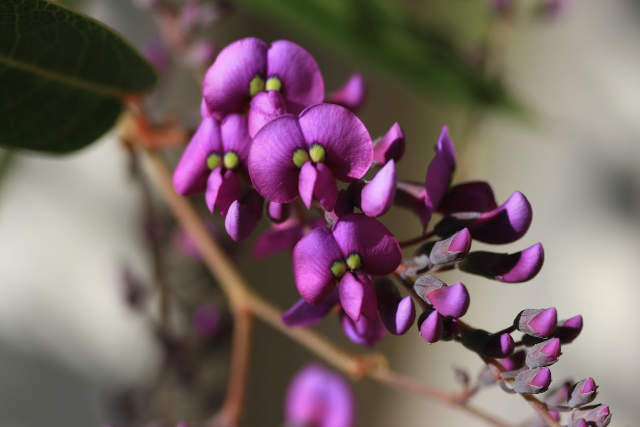 Does the vine attract or deter any wildlife?
Bumble bees love the sweet scent of Hardenbergias. Our vine is always buzzing. This is a busy spot in the garden for the bees they are always swarming around this vine. Keep this in mind when you are deciding where to plant your vine.
How do I care for lilac vines?
What Time of Year Can you find Hardenbergia Lilac Vines at the local Nursery?
Popular Posts